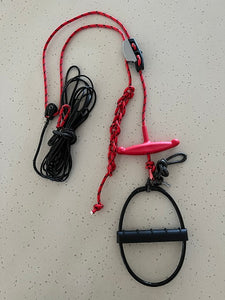 Pair of Trapeze lines with Adjustable Trapeze System
9-TrapAdj
Regular price
$489.00
$0.00
The very best tried and tested adjustable trapeze line system suited to performance catamaran sailors. No more slop, handles to close or too far and rings hitting you in the teeth.
Above Handle Adjustment - keeping distance to handle constant. This is VITAL to consistent maneuvers and happy sailors. 
400mm of Adjustment from 3 foot kids to 7 foot giants you are ready to roll, Supplied with additional rope length for you to customize preferred full length if you consider yourself a "Low Rider".
5mm grippy race spec adjuster lines to resist cleat jams and twisting.
3mm High quality grey 12 Plait UHMWWPE (Dyneema) line, Tapered and spliced
Cover at Hounds to resist chafing
Friction Shock Blox and Ronstan spliced on pulleys
Our custom built hookup loops are bullet proof and dont collapse. They look like Hobie loops but are not. These are light, resist tangling, don't break teeth and are super easy to snatch and hookup, even for the pros who hookup with one hand or from the wire.
Integrated sister clip connection to shock cords for easy rig and de-rig, or just disconnect when covering boat.
Cool red T handles for lifting yourself back into the boat with a natural arm-curl grip.
We have been developing and testing these for 3 years - they are perfect!
Get faster, treat yourself. Our adjustable trapeze lines are to cat sailing what air-conditioning is to cars.
Price per pair.
---
More from this collection