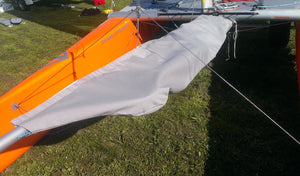 Spinnaker Chute Cover HD Acrylic Canvas with zips
8-BCChuteHD
Regular price
$415.00
$0.00
Cover your spinnaker chute and protect it from the elements with our high quality chute cover. Manufactured from super durable Weathermax fabric.
Dual Zips allows cover to be easily put on without removing spinnaker sheets and port side stabiliser line. No shonky cheap velcro that is a hassle to line up, falls apart in the sun, tears off in storms and stops working after two years. (as seen in the picture below)
This is quality! Theres cheaper covers but then you will need three to give you this things lifespan. Plus by the time you fit the velcro junk or the one zip cheaper model your beer will be warm. Spend the few extra dollars you'll be so glad you did.
Suitable for boats running a prodder setup.
---
More from this collection